Assessment and rating preparation visit
Consulting service for long day care, kindergarten, preschool, OSHC and family day care
Assessment and rating can be make or break, so it's crucial to be well prepared. This popular package will take the stress out of A&R and help you and your team get ready. One of our expert consultants will spend a full day at your service, observing practice and providing feedback in each of the quality areas. Your educator team will receive coaching across the day and have the opportunity to ask questions about any area of service operation, free from judgement.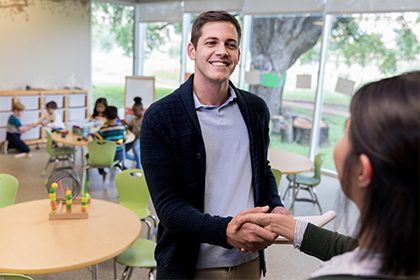 ½ day or full day, delivered in your children's service
Package starts from $1399 +
GST for your team or service
Talk through your previous assessment and rating report and current quality improvement plan and identify strengths and areas for improvement
Learn what may be required of staff during an assessment and rating visit and unpack common assessment and rating questions for educators
Get simple tips, tricks and checklists for highlighting your service's strengths
Get guidance and support on situations as they arise throughout the day
Receive a detailed written report outlining observed strengths and suggested improvements in each quality area
This PD aligns with QA7 and APST 7.
Why choose CCC for your professional development?
We will come to your service – whether you're in metro Melbourne or regional Victoria – or we can deliver your PD virtually
Fully customisable PD to match your quality improvement goals, your team's development
areas and your budget
Our expert consultants have 150+ years' lived experience in the field, which means you get
practical, relatable PD that you can immediately apply in your service
What early childhood and OSHC services are saying
'Thank you so much for all your help and guidance, we went straight to Exceeding from Working
Towards' – Rajni, The Learning Sanctuary Park Orchards